Programs
Public Drinking Water Protection
This popular program is often referred to by municipal water suppliers as the "penny per hundred" program. For every one hundred gallons of water delivered [by major water suppliers] one cent is collected and set aside for land acquisition or for water quality improvement projects to protect the quality of drinking water supplies. Each water supplier participating in this program must spend a minimum of 55% for land acquisition – the primary protection activity. Examples of other projects that contribute to improved water quality include nonpoint source pollution or run-off prevention measures, treatment facility upgrades, water main cleaning or relining, and even the purchase of water conservation kits or watershed signage.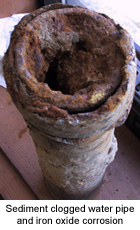 Since 1994, the Board Corporate successfully administered Phases I & II of the program, which consisted of disbursing $18,343,382. Of this total $13,614,265 protected 2,410 watershed acres through land acquisition or purchase of development rights. $244,254 was spent to develop watershed protection plans and $4,484,863 was spent on forty-nine water quality improvement projects. These results reflect significant progress toward protecting the quality of the state's drinking water resources investing 78% of the total funds for land protection. In November of 2002, the state issued approximately $7.2 million in new bonds for Phase III of this successful program which will run through February of 2006. In 2004, $1.14 million (61%) protected 144 acres of watershed land through land acquisition or purchase of development rights. An additional $740,000 funded eight water quality improvement projects for six water supply districts.
Protecting the quality of the public drinking water supply—not only for today, but also for future generations—is an on-going challenge. The success of this program is made possible through the partnership and cooperation of the land conservation groups and the water supply community. The Board is appreciative of all those who played a role in helping the agency reach these goals.
Phase I, II, & III - 55/45 Allocation Status Report (PDF)
Phase III Project Descriptions and Monthly Status Report
(PDF)