Programs
Drought Management
Rhode Island can experience extended periods of dry weather, from single season events, like the drought of 1999, to multi-year events such as experienced in the mid 1960s. Historically, most droughts in Rhode Island have started with dry winters, rather than a dry summer. Rhode Island has had at least six major droughts since 1929. Future long-term drought in Rhode Island will have a greater effect on drinking water supplies as population and land use patterns change, particularly in groundwater dependent areas of the state.
The amount and the timing of precipitation are key indicators of impending drought. Under normal conditions, late fall and winter precipitation recharges ground water and stream flow prior to the "green-up" period in April and early May. Short-term drought episodes in Rhode Island usually commence just after the green up period, reaching their greatest intensity during the mid-summer and early fall. The 1985 and 1999 droughts, for instance, were preceded by "above normal" precipitation during the spring that was not sufficient to replenish the deficit from the lack of snow and rain during the previous winter and late fall.
State Guide Plan Element #721, Water 2030 includes the state's drought management plan which was developed to provide government with a framework for coordinated response in times of drought. An interdisciplinary Steering Committee meets as needed to assess current conditions and make determinations regarding phases of drought. Rhode Island works closely with the National Weather Service and the US Geological Survey to coordinate drought phases and indices with neighboring states.
Current Drought Level: Advisory
Governor Gina M. Raimondo issued a statewide "Drought Advisory" on September 17, 2020 to Raise Awareness of Dry Conditions. Click here to read the full press release.
To view full monthly drought reports:
Drought Steering Committee Presentations
For more information about the Drought Indices and Conditions:
See Drought Indices and Phases and Drought Advisory Actions from Water 2030
Monthly Water Conditions Monitoring
Water Resources Board staff work with the National Weather Service and the US Geological Survey to gather and assess rainfall, surface water and groundwater conditions on a monthly basis. When conditions become dry WRB implements additional monitoring and actions related to drought response consistent with the State Guide Plan Element 721, Water 2030. The links below share the information that the National Weather Service and the USGS provide to assess conditions.
Monthly Precipitation Report and Selected Indices-National Weather Service
Water Conditions Reports
When conditions become dry, WRB staff increase monitoring and reporting and may convene the Drought Steering Committee.
View Past Water Conditions Reports ».
Drought Phases, Indices and Regions
Drought Regions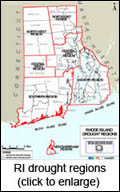 There are seven drought regions in the state that were developed based on precipitation, air temperature, soil type, source of water supply, and municipal or water district boundaries. The plan outlines five levels of drought consistent with the National Weather Service's Watch/Warning system and those used by neighboring Massachusetts. Each level requires increased action and coordination by the Steering Committee member agencies.
Drought Levels and Indices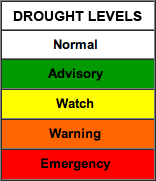 The Steering Committee assigns drought levels based on hydrological indices such as precipitation, groundwater, stream flow and the Palmer Drought Index as well as local supply indices such as static groundwater level, and reservoir levels. The Normal, Advisory and Watch levels are issued statewide. The Warning and Emergency levels are issued on a regional basis, consider local conditions, source of supply and water storage capacity issues.
Hydrologic Drought Indices (PDF)
Implementation: Framework for Strategic Response to Drought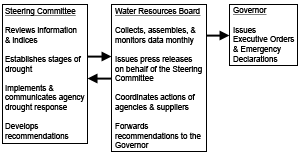 The RI Drought Management Plan vests state responsibility for coordination of its drought management process in the Water Resources Board and plan implementation in the Drought Management Steering Committee. Members of the Steering Committee include federal and state agencies as well as local water suppliers. The Water Resources Board is responsible for maintaining a current contact list, monitoring conditions and convening the Steering Committee when necessary.
Drought Management Strategies
Even though average precipitation levels may not change significantly in New England, Rhode Island can anticipate more frequent periods of drought. Consequently, the state needs to take steps to reduce vulnerability to periods of reduced precipitation. One means is by increasing efficiency of water use and allocating high quality [drinking] water, first, to uses that require that quality. Drought management strategies include water demand management; waster supply system management; integration of water and wastewater; and policy, legislative and regulatory considerations. Additionally, each category of water use requires a program tailored to it.
Demand Management
Evaluate Major Users Technical Assistance Program (MUTAP) to assess issues and constraints to effective implementation
Evaluate reduction in residential water demand, especially for stressed systems
Evaluate the water rate structure in terms of conservation pricing and investigate other incentives to further reduce demand
Explore strategies to improve demand management for consumers using private wells or surface waters that are not part of a public water distribution system
System Management
Assess the Emergency Interconnections Program as a tool for managing drought
Maintain public water system infrastructure
Integration of water and wastewater planning
Explore reuse of wastewater
Establish a means to quantify the value of water that relates to the projected costs of producing, distributing and treating the water
Policy, legislative and regulatory considerations
Develop a water allocation program consistent with the state drought plan
Require water suppliers to prepare drought management plans that are consistent with the state drought plan
Explore legal measures that may be needed to address water users that are not on a public water supply system, such as drought management ordinances
Develop standby agreements between municipalities and water suppliers
Consider drought in local land use planning